Perched on a hill in Meadows, Newfoundland sits my mom's old saltbox, a traditional home built nearly a hundred years ago. At the heart – a kitchen cozier than hot chocolate and a hand-knit blanket on a cold February day. We enter the door greeted with smiles and a warm embrace by my 11-year-old cousin and Goddaughter, Claire. Today the youngest generation of GetJoyfull girls — Cela & Claire, are treating the oldest — GiGi and her sisters, Mary & Selma, as well as my mom, Joy and Claire's mom, Sara to a buffet of sweet treats!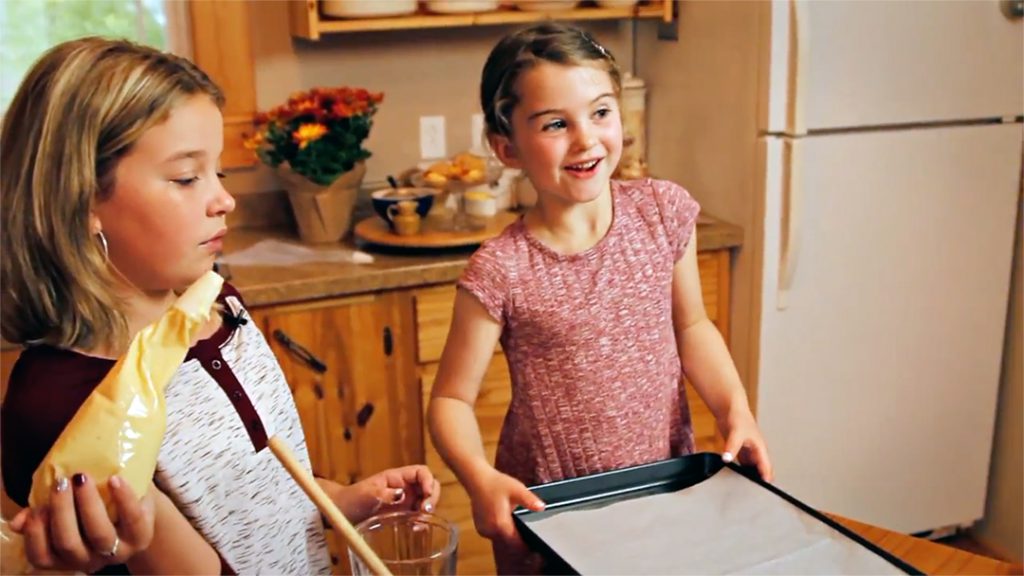 Claire lives in Newfoundland and is the most brilliant baker and budding entrepreneur. "Baking for me is about creating memories," says Claire. Filling up her Instagram feed, @clairebearscakes, she proudly shares her culinary gift with the community, creating carefully commissioned hand-crafted sugary masterpieces, fueled by a self-taught skill I swear she was born with. On this mauzy Newfoundland day we are sipping hot tea while Cela and Claire get down to business in the kitchen to bake a true family favourite – Cream Puffs. Yum! Now, if you're asking yourself — What the heck does "mauzy" mean, or is that a type-o? I've got you! Here's another language lesson by the wonderful Newfoundland & Labrador Tourism. 
Cream Puffs are a go-to for all GetJoyfull celebrations — birthdays, showers and graduations. My Aunt Teena perfected the recipe, and now her Granddaughter, Claire is mastering her own choux paste creations. On this day these two mini-makers fill delicate puffs with whipped cream and a cloudberry compote you could write home about. Cloudberries are coveted in Newfoundland — a real berry treasure — as these hand-picked gems are delicious, but not always easy to find. As a young girl I remember being told (somewhat, jokingly) that you had to be 40-years-old before you were allowed to eat them. They're tart and resemble a gooseberry when eaten raw, and red apple when cooked. To find out more about cloudberries visit our friend and blogger-extraordinaire Valerie Lugonja,  A Canadian Foodie, who beautifully captured her cloudberry experience here for all to savour.
Claire's Cloudberry Cream Puffs

Ingredients:
Choux Paste
1/2 cup unsalted butter

1 cup water

1/4 tsp salt

1 cup all-purpose flour

4 whole eggs
Compote
2 cups cloudberries/berry of choice

1/2 – 3/4 cup granulated sugar
Whipped Cream
1 cup whipping cream

1 tsp vanilla extract

2 tbsp powdered sugar
Directions:
Choux Paste – Preheat oven to 425. In a medium saucepan bring water and butter to a boil. Add flour, salt and stir until glossy ball is formed. Transfer mixture to bowl. Cool slightly. Add eggs with electric mixer one at a time. Spoon or pipe large tablespoon sized dollops of batter onto cookie sheet.  Bake for 25 to 30 minutes.

Compote – In a small saucepan gently boil cloudberries and sugar until berries soften, bubble, and cook into a glossy jam. This may take 20 minutes. Stir frequently. Add compote to sterilized jars and refrigerate for up to one month. 

Whipped Cream – Using a handheld whisk or mixer, in a medium-sized bowl whip cream, vanilla and powdered sugar until stiff peaks form.  

Claire's Tip: Pre-chill bowl and whisk in the freezer for 15 minutes. This makes it a little easier to whip the cream by hand.

Assembly – Using a small paring knife partially open pastry. Fill cooled cream puffs with whipped cream and compote. Dust finished pastries with powdered sugar or go full-on Clairebear and garnish with dark-chocolate drizzle. Enjoy!
It was a true joy to see these two cousins bond over a shared love of baking – laughing the day away creating their preciously perfect cream puffs. I'm so proud of my Goddaughter for her tenacious spirit and all she's accomplish at just 11-years-old. I see in her the same unbridled food joy I found as a girl, and it fills my heart with pride to see her embrace and share her gift with others. Food truly is love, and nothing brings people together quite like it. It's impossible not to smile when you tuck into a delicious cream puff. There's something almost intangible about the feeling you get when you sit down at a table and enjoy good food with good people. It creates a lasting impression on your heart and in your memory. What are your fondest food memories? Share your 'Food is Love' story with us @getjoyfull.
Stay tuned next week as we embark on a journey of giving back and sharing food with our neighbours – just because. Until then don't forget to Fill Up On Family Time.