Sparked by a growing consumer appetite for plant-based eats, and their Canadian market launch, MorningStar Farms recently sent me a taster pack of their "vegetable-forward" burgers. An invitation to get grilling literally arrived on my doorstep! Word must be out that I'm a veggie enthusiast, and also a busy Mama who seriously appreciates the value of healthy convenience.
Flavours to try included a little something for everyone…"Mediterranean Chickpea," "Harvest Veggie," and "Spicy Black Bean." So, over the past couple weeks, the entire GetJoyfull crew set out to explore each unique flavour, and expand our family menu.
After cooking-up a few new recipes, and tons of backyard fun we learned a lot about what each one of us value most in a burger. Here are a few bites about our experience, and individual take-a-ways!
"Each one of these vegetarian burgers boasts 9 to 11 grams of protein, 4 grams of fibre, and no artificial flavours, or colours. They hold-up beautifully on the grill, and cooked from frozen in about 8 minutes. Bonus."
I found a true friend in the "Mediterranean Chickpea" burger. I tried it on the BBQ, but actually preferred it even more simply prepped stovetop in my cast iron skillet. Keeping up the Mediterranean vibe, I enjoyed the burger on a bed of crisp butter lettuce with a smothering of cool cucumber, sharp feta, and creamy Greek yogurt. Trust me this GetJoyfull creation did not disappoint. In fact, I may have eaten this fast and fresh combo for lunch three days in a row, lol.
My Cela, and Remi really favoured the "Harvest Veggie" burger. Lightly seared, and nestled on soft brioche with a few yummy, kid-approved toppings. Real Canadian cheddar, rings of crisp red bell pepper, and sweet pickles. (My Remi is obsessed with pickles!)
My husband, Alex, is the most adventurous of us all. He's more than happy to chomp down on a vegetarian burger — any day. That is, as long as it still packs a flavourful punch, and satisfying texture. He's all about spice; therefore, the "Spicy Black Bean" burger was hands-down his favourite. So much so, in true Big Papa form, he insisted on a double-stacker. And, I can't say that I blame him. I mean, seriously. How delicious does this look? Don't miss the recipe below!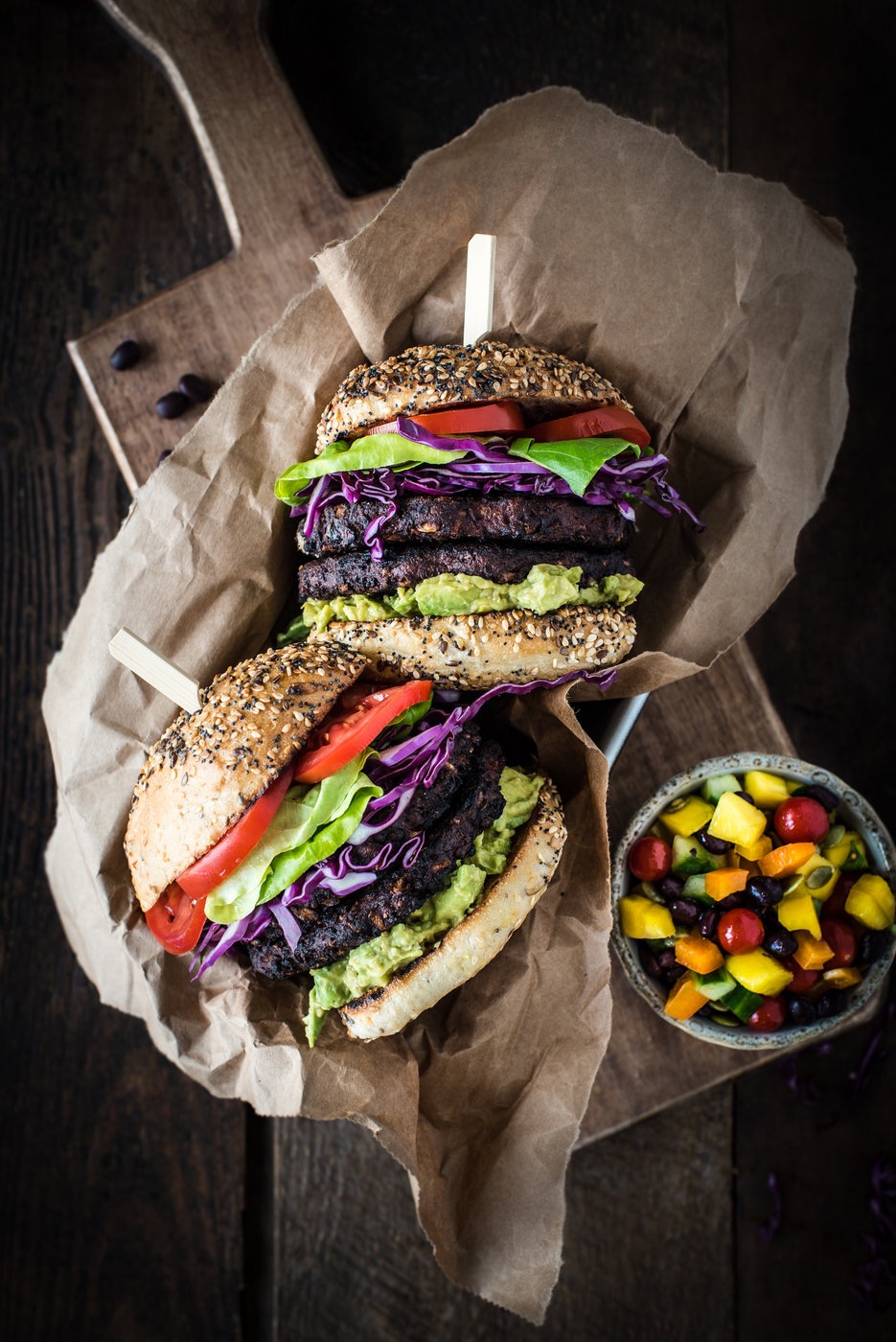 "While the GetJoyfull crew are not vegetarians, like over 50% of Canadians we opt for plant-based foods on a regular basis."
Spicy Black Bean Burgers & Fresh Mango Salsa
Serves 4
Ingredients:
4 MorningStar Farms "Spicy Black Bean" Burgers
4 Whole-grain buns (We love Rustic Seeded Buns from local Bon Ton Bakery)
Fresh Mango Salsa
In a medium bowl, combine:
1 ripe mango, peeled, and cubed
1 English cucumber, quartered, and diced
1 cup grape tomatoes, halved
1 cup canned no added salt black beans, rinsed and drained
¼ cup flat leaf Italian parsley, finely chopped
Juice from 2 limes
Salt and pepper to taste
Enjoy right away, or refrigerate and enjoy within 2 days.
Directions:
Preheat BBQ grill, or a cast iron skillet to medium.
Grill frozen veggie burgers until thoroughly heated, and caramelized with the grill marks we love. This should take about 4 minutes per side.
Serve wrapped in crisp butter lettuce, or on a toasted seedy bun. Garnish with toppings that add even more colour, creaminess, and crunch. Serve with Fresh Mango Salsa.
GetJoyfull.
Toppings:
Smashed avocado, shredded purple cabbage, butter lettuce, and juicy greenhouse tomato.
Tip: Grill all year round. Try cooking vegetarian burgers in a cast-iron skillet. It's super quick, and a sure fire way to add a golden crust, and boost of iron.
---
What plant-based foods, or veggie burgers are you loving, or planning to try this summer?
Thanks again to MorningStar Farms for kick-starting BBQ season, and helping us get fired-up about vegetable-forward grilling. What plant-based foods, or veggie burgers are you loving, or planning to try this summer? We love to hear all about your GetJoyfull adventures, and fun-filled family meals. Keep sending your food stories, and recipes our way! Cheers to a great summer of grilling, and chilling with the ones we love best.
Joyfully,
Emily
Disclosure: This is a sponsored post; however, all information shared is authentic, and true to my personal, and professional experience.