We're half-way through September, and somehow, together, surviving the back-to-school rush. How about you? Keeping it real, this routine "reset" has definitely been a challenge. But, on a positive note, we've hit a few bright spots along the way and learned some important lessons.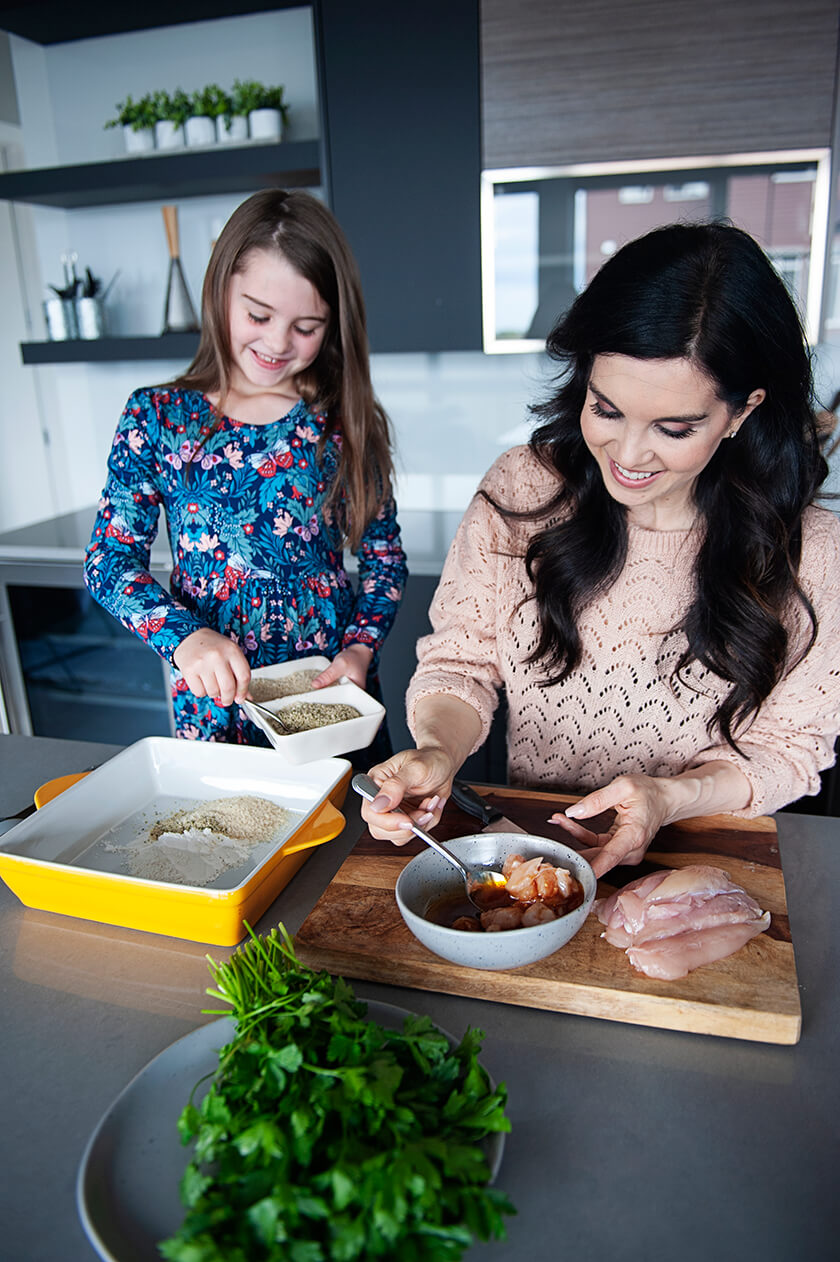 First, and foremost, we've learned that we're all in this together. And, we all have to do our part to pitch in. Otherwise, things go sideways. Fast. Thankfully, since little Esme was born, all hands are on deck and everyone has stepped up to help out. Cela's not only been a superstar helper with Esme, but a rockstar in the kitchen. She had been asking for more "big girl" tasks in the kitchen, and the arrival of her baby sister presented the perfect opportunity to stretch her kitchen skills. It is amazing what kids can do when given the chance!
In just a few weeks, Cela's mastered several new family recipes, and really upped her knife skills. She even took the lead on dinner, and lunch last week, and whipped-up a double-batch of one of our favourite kid-friendly chicken recipes, "Crispy Chicken Poppers."
Secondly, we learned that quality time is what matters most. The days are shorter, and there's more to be done. School, homework, hockey etc. This means when we get to sit together for dinner, or evening snack — even if it is for only ten minutes — it's time we're committed to connecting.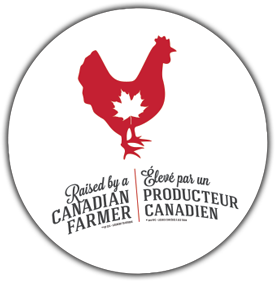 September is also National Chicken Month, and a time of year when we celebrate, and support Canadian Chicken Farmers [partner]. Our "Crispy Chicken Poppers" are made with fresh Canadian chicken, and coated with all kinds of golden goodness. Do you know how to spot Canadian-raised chicken at the grocery store? Keep a close eye for this logo, and be sure to choose fresh chicken for your favourite recipes. 
Knowing the cold season is around the corner, and having a newborn at home you can bet I'm doing everything possible to keep the sniffles at bay. Along with a balanced diet, zinc is an important mineral that helps strengthen both growing bodies, and immune systems. Chicken is a great source of zinc, and a healthy choice I feel good about feeding my family. 
What kid-favourite recipes have your littles running to the dinner table?
Kid-favourite recipes like these "Crispy Chicken Poppers" get rave reviews in the GetJoyfull kitchen because they look appealing, taste delicious and are finger-friendly. In other words, cutlery is optional! "Crispy Chicken Poppers" do triple duty and are great for a quick dinner, family game night, or school lunch. Cela packs leftover poppers in a bento box with a side of creamy dip, and fruit & veggie friends. She loves that they're quick to eat, and deliciously dippable. I love that they're packed with energizing protein, and filling fibre. 
Lastly, we learned that on days when protein and fibre is lacking at lunch this smiling cutie can be one grumpy bear come school pick-up time. A colourful, protein-packed school lunch like our "Crispy Chicken Poppers" bento box gives my Cela the sustainable energy she needs to power through the afternoon, and the lead time Mama needs to prepare after school snack.
Parents, what are your go-to school lunch combinations?
---
Crispy Chicken Poppers
Fresh Canadian chicken infused with citrus and honey then baked popcorn-style with a crispy coating of Panko, seeds, and seasonings.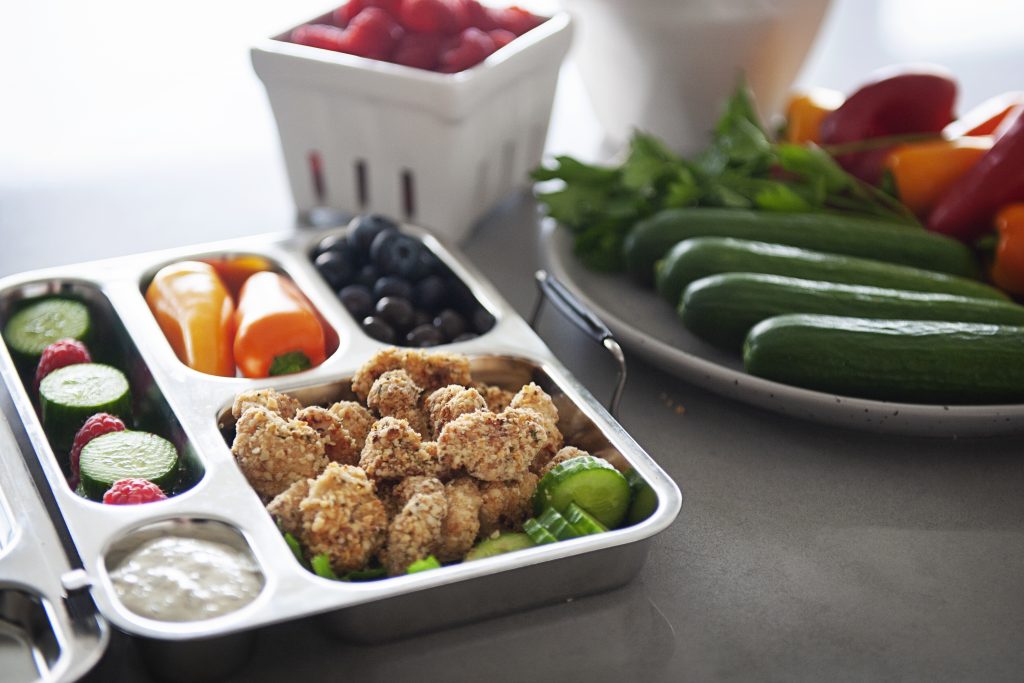 Ingredients:
2 Tbsp (30 mL) vegetable oil

1 fresh lime, juiced, and zested 

1 Tbsp (15 mL) honey

1 tsp (5 mL) garlic powder

1 tsp (5 mL) onion powder

1 tsp (5 mL) ground cumin (optional)

2 lbs (900 g) fresh Canadian chicken tenders, or breast

1 cup Panko-style breadcrumbs

1/2 cup (125 mL) hemp seeds 

1/4 cup (60 mL) whole wheat flour 

Salt and pepper to taste

1 Tbsp (15 mL) fresh parsley, finely chopped 
Directions:
Preheat oven to 400°F (200°C). Line large baking tray with parchment paper. 

In a large bowl, whisk together oil, lime juice, garlic powder, onion powder, and ground cumin.

Chop chicken tenders into bite-sized or "popcorn" pieces, and add oil mixture. Gently stir, and to evenly coat chicken. Set aside for 5 minutes.

In a separate bowl, or large freezer bag combine Panko, hemp seeds, flour, salt, and pepper to make coating mixture. 

In batches, add chicken pieces to the coating mixture, and shake or stir to evenly coat. Transfer coated chicken onto baking tray, and repeat until all chicken is coated, and spaced evenly on tray.

Bake for 10 minutes. Flip and bake for an extra 5 minutes, or until golden, crispy and cooked through. 

Garnish with freshly grated lime zest, and finely chopped parsley. 
GetJoyfull Serving Ideas:
Serve family-style with a platter with fresh butter lettuce, creamy garlic aioli, shredded red cabbage, and sweet pickles. 

Snack-happy afterschool with plate of chicken bites, and crunchy fresh goodies like sliced apple, or cucumber. 

Leverage-leftovers, and pack a bento lunchbox of chicken bites, mini peppers, grape tomatoes, and tzatziki. 
---
Special thanks to our friends at Alberta Chicken for supporting the GetJoyfull movement, and for helping make this recipe, and post possible.
Joyfully,
Emily