After an amazing Food Trip to Alberta Bison Ranch, Cela and I were energized to get back in the GetJoyfull kitchen.
Adding to our excitement was a visit from executive chef and culinary visionary, Shane Chartrand. Shane shared his recipe for "Grilled Bison Skirt Steak with Quick Pickles." A rustic, family-style dish, that's sure to be an ongoing favourite.
If you aren't already – please follow us on Facebook, Twitter and Instagram @GetJoyfull, where I share behind the scenes fun as Cela and I embark on different GetJoyfull adventures.
Thanks so much for watching and remember to Fill up on Family Time.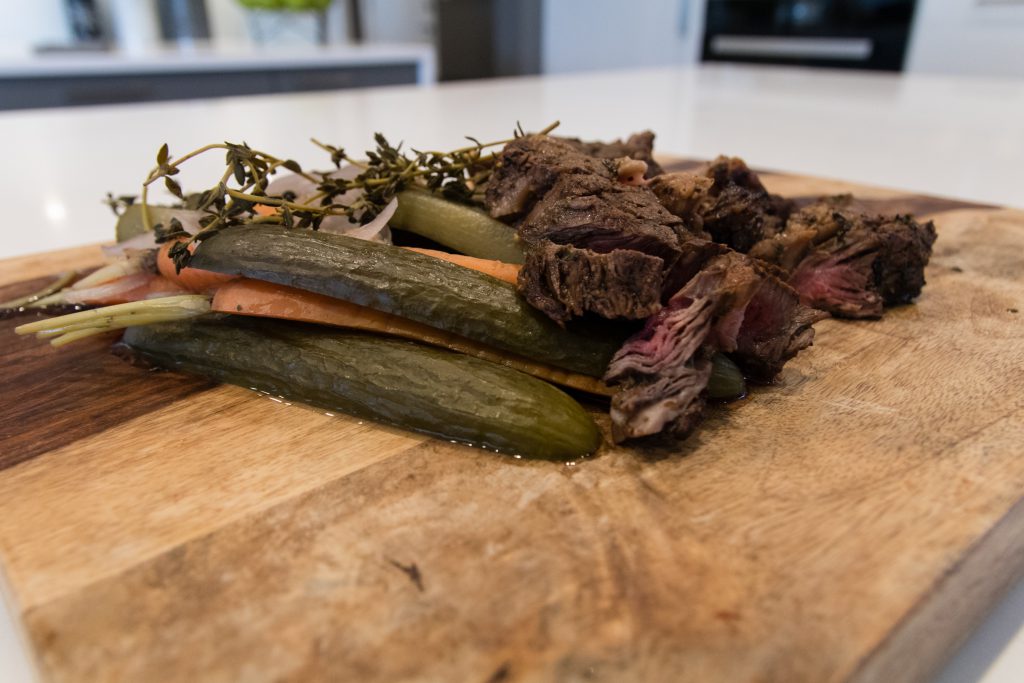 Ingredients
Bison Skirt Steak
Marinade:
2 Tbsp. (30 mL) Fresh Oregano, finely chopped
1 Tbsp. (15 mL) Fresh Rosemary, finely chopped
2 Tbsp. (30 mL) Fresh Thyme, finely chopped
¼ cup (60 mL) Extra virgin olive oil
2 garlic cloves, peeled, thinly sliced
2 Tbsp. (30 mL) Shallot, finely chopped
Juice from 1 lemon, freshly squeezed
Salt & pepper, to taste
Quick Pickles
2 English cucumbers, sliced lengthwise
4 Carrots, quartered
2 Tbsp. (30 mL) Pickling spice
1 Tbsp. (15 mL) Sea salt
1 small White onion, sliced
¼ cup (60 mL) Wildflower honey or white sugar
2 Tbsp. (30 mL) Whole peppercorns
1 cup (250 mL) Apple cider vinegar
1 cup (250 mL) Water
1-2 sprigs Fresh dill
Recipe By
Shane Chartrand
Executive Chef at Sage.
Curator of progressive Indigenous cuisine.
KEY INGREDIENT: Alberta Bison
PREP TIME: 30 minutes
COOK TIME: 8 minutes (steak), 1-2 hours (pickles)
SERVES: 2-3 people
Procedure
Bison Skirt Steak:
Prepare marinade and coat bison steak. Store in refrigerator in airtight container for 1 to 24 hours.
Preheat grill, or cast iron skillet on high. Add skirt steak and cook for 3-4 minutes per side.
Remove bison from skillet and allow meat to rest for 5-10 minutes. Slice into long strips, against the grain. Serve family style on large platter with grainy mustard and crusty sourdough bread.
Chef's Tip:
Bison skirt steak is a tougher cut of meat so take extra care not to overcook it.
Quick Pickles:
Slice cucumber, white onion and carrots.
Prepare pickling liquid: add water, vinegar, pickling spice, whole peppercorns, fresh dill, honey and sea salt to wide-bottom saucepan.
Add vegetables to saucepan/pickling liquid and cook for 5-10 minutes on medium-high. Refrigerate cooked mixture, for approximately 1-2 hours, or until completely cooled and flavors have intensified.
Plating:
Serve on a platter "family style" with mustard and pickles "piled" on top. Enjoy!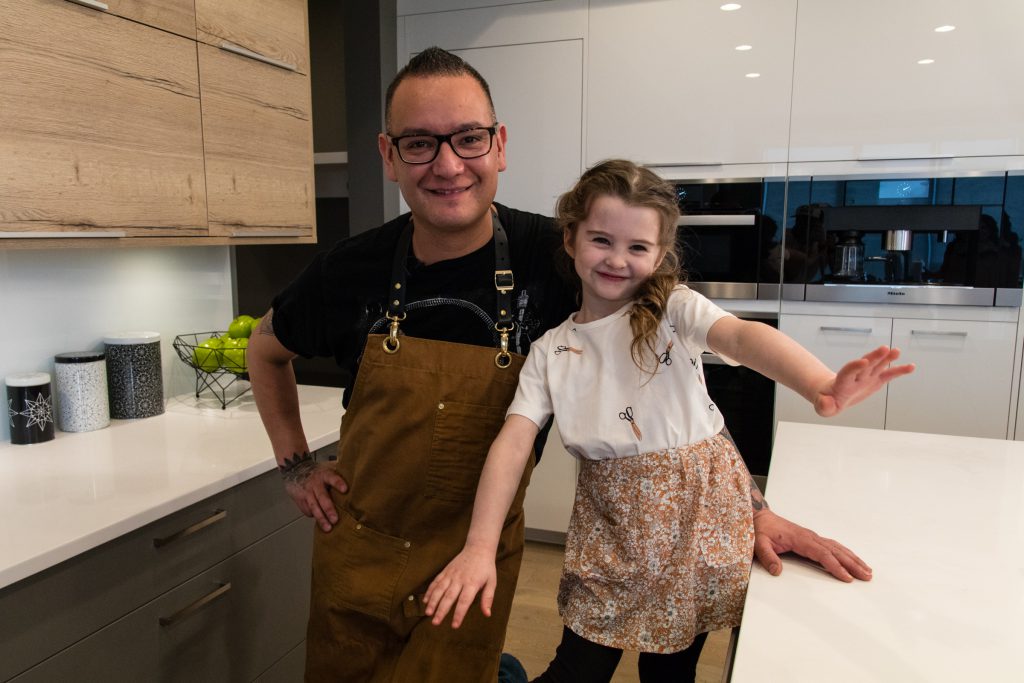 Fill Up On Family Time
Emily & Cela Joy