In Carole Anne Devaney's TV life as the anchor of Global Edmonton's 6 o'clock news – everything is planned, programmed and primped to perfection. 
But last week  for Mama Joy Monday, Carole Anne took us behind the scenes of her life as a mom. She didn't hold back and revealed just how messy and uncontrolled life with three kids under school age really is. I loved it! Because I am living this right now as a brand new mom to three too. 
What I learned is – life truly is in the mess. And in Carole Anne's mess there is a love of food and experimentation that can only come from living life day to day – minute by minute.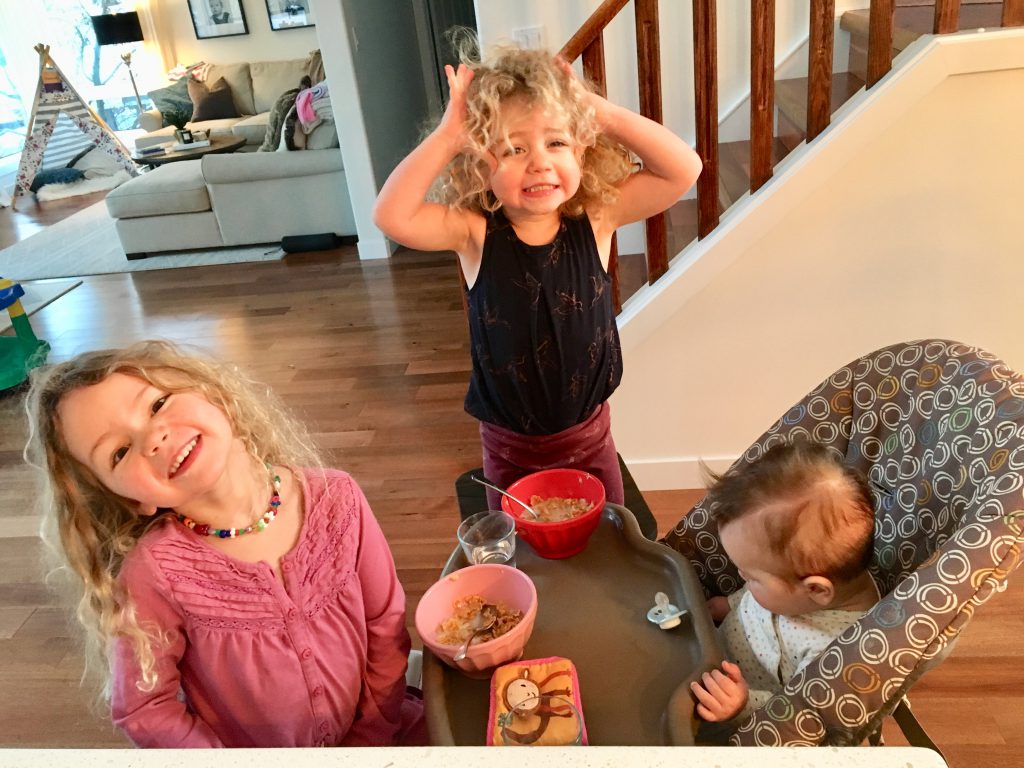 So here are some fun games Carole Anne uses to develop her kid's palate and help them find love in a variety of foods while still getting joyful in the kitchen! 
Developing Well Rounded Palates 
"People often ask me how I get my girls to eat all sorts of savoury, spicy, tangy and flavourful foods," says Carol Anne. "My answer is always the same; I've been throwing anything and everything in front of them, from the moment they could eat solids."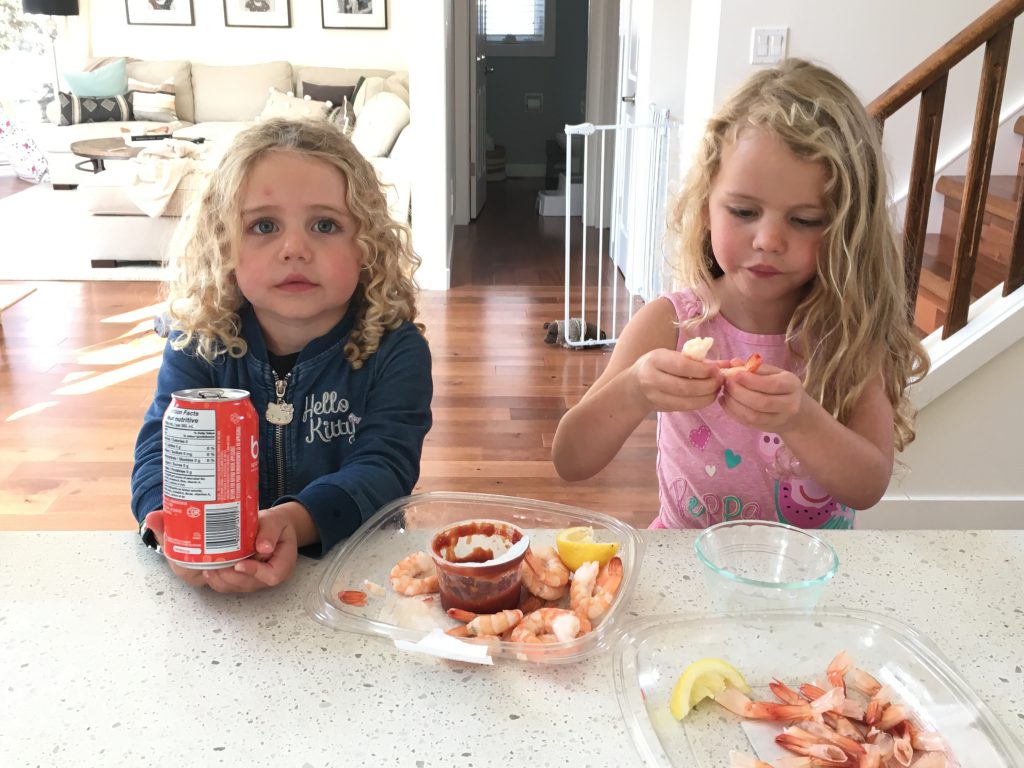 For example, these are some of the foods Carol Anne is feeding her 11-month-old boy right now, to challenge his palate: fish, olives, capers, lemon wedges, pomegranate seeds, hummus, tzatziki, sour cherries, cauliflower, pickled ginger, mushrooms and fig bars. 
That's all on top of the more traditional baby foods he already enjoys, like avocado, sweet potato, corn, carrots, rice, peanut butter, etc. By the time Carol Anne's eldest daughter was 12 months old, she was already chewing on lamb chops and chowing down on sushi. By age three, she had tried her first raw oyster!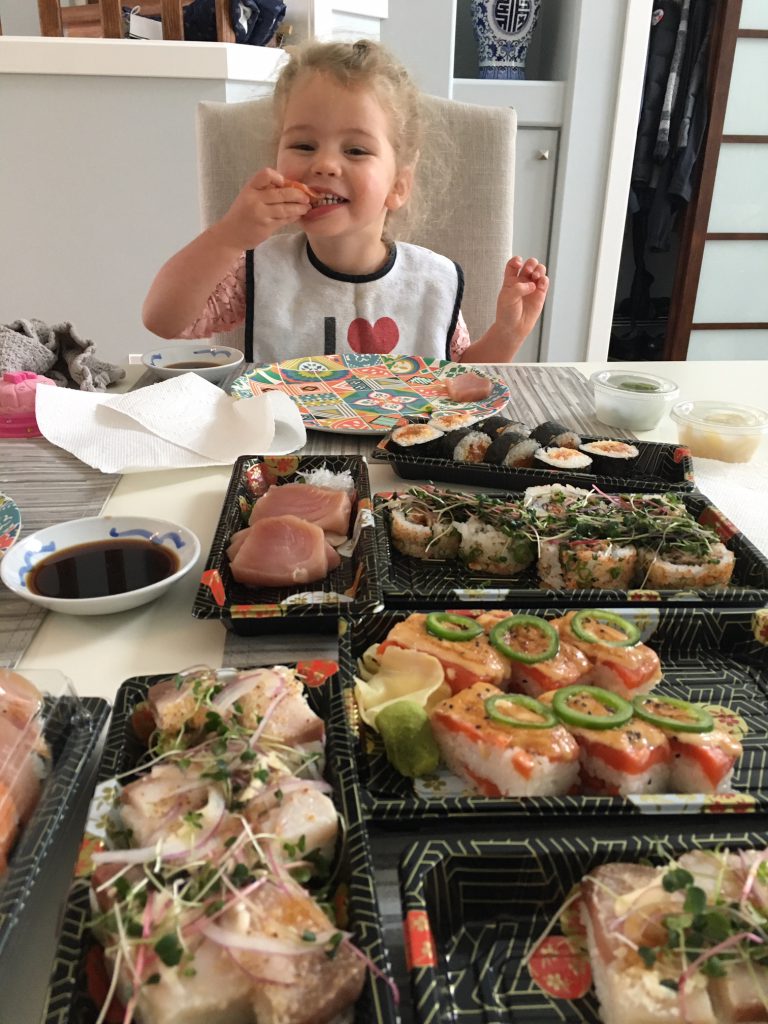 "I have found that it's much easier to introduce different flavours and textures to my children when they are super young… before they become too aware of what they're eating," says Carol Anne. "At nearly 5 years old, Emmanuelle is a little hesitant now to try new things. She asks more questions about what's on her plate and tends to dissect it with her fork to make sure there are no surprises."
Play a Game
If you're a parent hoping to introduce new flavours and textures to your children, Carol Anne suggests a fun dinner game she calls 'Souper Surprise'! They  came up with it one night… solely as a way to clean out the fridge. This 'Surprise Supper' game works wonders with her kids and they request it all the time!!
Here's how you do it.
Get your kids to close their eyes, and put a bite-sized piece of food in front of them, like one or two cherry tomatoes, or one or two slices of cucumber. Doesn't matter what it is, just keep it small.

When they open their eyes, tell them they have to eat what's on their plate if they want to pass to the next surprise bite.
Once they do, whip out something different! To keep it interesting, you don't need to follow a particular order… veggies before fruit, savoury before sweet. Carol Anne suggests mixing  it up; a bite of chicken, followed by a few slices of kiwi, a carrot stick… then bam, out of nowhere comes a little scoop of jam!
Last time Carol Anne played this game with her girls they ate: tomatoes, cucumbers, avocados, olives, brussel sprouts, carrots, hummus on a cracker, kiwi, a scoop of peanut butter, pomegranate seeds, dried apricots, some pasta noodles, three cashews, smoked salmon and two slices of cheese.
That's 15 different bites! Carol Anne keeps track of what she gives them because after dinner, the kids love to add up how many surprise bites they managed to scarf down.
"This little game has taught me that with children, small portions and presentation are EVERYTHING!" she says.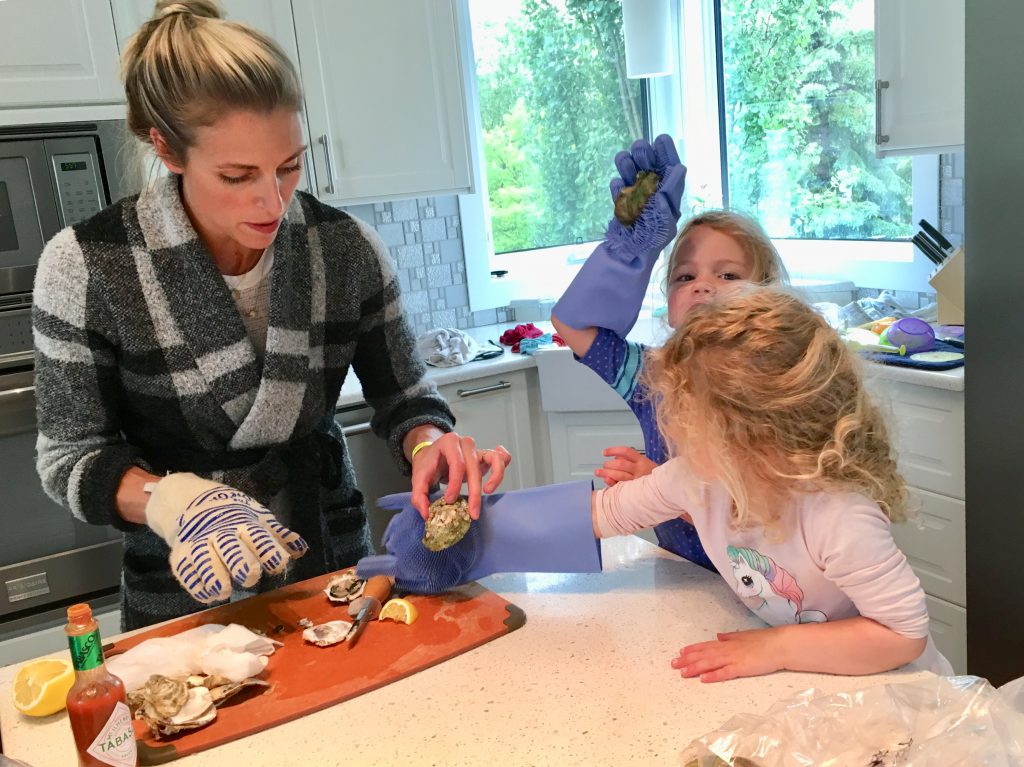 I want to extend a huge thank you to Carole Anne Devaney for sharing the beauty of her own food joy and how she passes that love onto her kids. It can be a real struggle for parents with picky eaters. Having new ideas to introduce all the richness you can find in whole foods is such a gift. If you'd like to read Carole Anne's entire blog post Raising Adventurous Eaters click the link! And tune into Global Edmonton for Carole Anne's return following her maternity leave in mid-September!